Vacation Rentals in Caiobá
Caiobá is a resort and also a neighborhood that belongs to the municipality of Matinhos, located in the state of Paraná.
This place is so amazing, that attracts thousands of tourists from Brazil and Latin America during the summer, where the population can reach up to 1.5 million people, and the original population of 15,174 people.
Its population is mixed-race, formed by descendants of carijós Indians, Italians, Germans, Portuguese and others. Caiobá presents a particular social structure, since their formation characteristics of its fixed and seasonal population, in terms relative to tourists and vacationers.
The Spa offers an excellent infrastructure with excellent real estate season, a choice of bars and restaurants and also offers a good nightlife. Who will the Caiobá once, no regrets and sure to return.
Access can be done by car or by bus through the main highways: BR 277, PR 508 and PR 407. Caiobá is 111 km from Curitiba capital and has a very warm climate for the southern fact, every year, averaging 22 degrees in the summer and up to 18 degrees in winter.
Caiobá is the hottest and famous beach in the coast of Paraná. It is an ideal place to go with children, couples and groups of friends.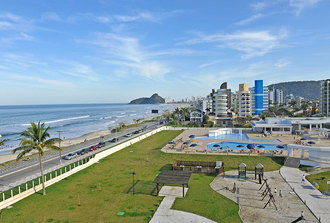 Attractions Caiobá
Water park
Right next to the resort, on Highway Alexandra-Matinhos, 20 km, is the Water Park Aguas Claras offering excellent leisure facilities in their pools and also in its beautiful fishing lakes.
Island
On the beach Caiobá you'll find the Island of the Turtles or Lighthouse. She is small and is covered by a flora. Also known by the lighthouse that exists in the location that serves to guide the boats that enter the Bay.
This is a great place for fishing, but their access is restricted due to have undergone a depredation.
Ecological Museum Joao Jose Bigarella
João José Bigarella Ecological Museum is in the city center and has its collection, collections of minerals, corals, crustaceans, animals, shells and many other rarities.
Beaches in Caiobá
The Caiobá seaside resort is the largest of all Matinhos resorts and is surrounded by cliffs and hills.
It has among its attractions Brava Beach and Mansa Beach.
Brava beach
With 3500 meters long and 50 wide, approximately, it is in a cove and has shallow water and a little hectic. Around the Brava beach it has a vegetation and a garden and one of its ends is the Morro do Boi and in the other, the Matinhos Rock. It is there that are performed Championships of Surf, calling the youth to the beach.
Brava Beach offers a great structure with bars, restaurants and also craft stalls.
Mansa beach
It is also located in a cove at the entrance of the Guaratuba Bay. Its waters are clear, calm and shallow. The Mansa Beach is approximately 1500 meters long and well-kept garden around.
She is one of the most visited beaches in the area, it is ideal for families and sunbathers seeking tranquility by the sea. From there, it reaches the Prainha do Farol or Beautiful Beach and Turtle Island.
Although much smaller than others in the region, Praia Mansa is very tasty. So softly that is the sea, in one of his ends even gets to have waves. Its border is houses and apartments, no shops there.
Properties in Caiobá
The city of Caiobá can be harnessed with more freedom and causality in the case of a rental property during the season. This is because the site structure is conducive to this freer and more independent approach from visitors. Through Caiobá in season rentals can enjoy better and more comfort all the attractions of the place, that combine natural beauty with the peace and quiet of a more private environment.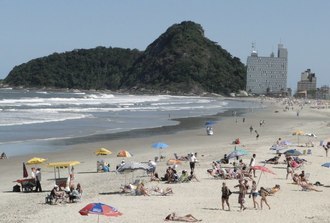 Apartments for rent in Caiobá
The city's main source of tourism economy, then, modern apartments in buildings with several floors abound in the center of town Caiobá. Therefore, the options for you to rent an apartment are many.
TemporadaLivre have different options of apartments in the city. Among them, some in the city center, or in paradisiacal beaches with balcony facing the sea.
When searching for a property to rent during the season the site, use the smart filters to choose the property that best suits your desires! It is up there on the left. You can filter the amount of people that the house holds, has swimming pool, barbecue, air conditioning, distance from the sea and many other options to choose the property that is your face!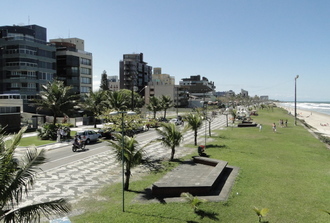 Rentals in Caiobá
For those who prefer to stay in a large, airy home to a large number of people, the island also does not lack. In TemporadaLivre you find a great real estate catalog for rent in Caiobá, for everyone, in various prices and various beaches.
Publish properties in Caiobá to rent for season
If you are the owner or property manager (broker, real estate) and want to rent property in Caiobá, we know that TemporadaLivre is the best rental portal for the season in Brazil. Do not waste time: see how season still advertise and put your property to work for you!