Vacation Rentals Garopaba
Garopaba is a city located in the state of Santa Catarina, southern Brazil. Considered municipality only from the 1960s, to be disengaged from the city of Palhoça, the site began to put into practice its tourism potential just from the 1970s, with the arrival of new residents, especially surfers.
Speaking of surfers, they today correspond to most of the tourists visiting the city each year. The Garopaba beaches are excellent for surfing, and receive practitioners coming sport from around the world, mainly in South America. In the surf, another local attraction is the view of whales.
The amazing beaches of Garopaba
Garopaba has a total of nine beaches in extent, and is really hard to choose which is the most beautiful. Are they:

Gamboa Beach: open sea, the beach of Gamboa is about 15 kilometers from the city center. For there a fishing community, and the way it is wonderful, with a wide vegetation and a view breathtaking;
Garopaba Beach: with two kilometers long, is quite urbanized, with houses and vacation buildings, and trade structure, supermarkets, bars, restaurants, and others;
Beach Siriú: belonging to the National Park of Taboleiro, which is an area of ​​ecological preservation. Boasts an ideal dunes training for the practice of sand surfing. Access to the beach is via a dirt road;
Beach Laziness: also called Prainha. With calm and crystal clear waters, houses in its vicinity the Grotto of Our Lady of Lourdes;
Places of Garopaba
Beach Bar: with light and choppy waters, the Barra Beach is well frequented by surfers. It is between the beaches of the Ombudsman and rust, and separates the latter by a sambaqui (middens are mountains formed mainly by shells and mollusks wraps) which was formerly a cemetery Carijós Indians. This beach has a calm stream suitable for bathing children;
Beach Rust: quite busy, especially in high season, mainly receives surfers and young tourists. Great waves, water and sand very clean, bars and restaurants along the beach guarantee the enjoyment of the public;
Beach do Ouvidor: This beach is located south of Garopaba, and has nice white sand and strong waves, ideal for surfing. Small, with just over 800 meters long, is considered the most beautiful in the region. Being a highly preserved beach, it has no infrastructure, so it is good to take food and water to spend the day (not forgetting to then collect the garbage and take away);
Silveira Beach: great waves for surfers, and nice pools for fishing and diving, Silveira Beach has access from a dirt road. It has lush vegetation, which ensures a spectacle for the eyes of tourists;
Red Beach: ideal for surfing, this beach features wild is beautiful.
What to see and do in Garopaba?
To the delight of tourists, nature Garopaba presented with the most beautiful landscapes of the region. But do not think that these beauties are only in the municipality's beaches. Yes, the beaches are incredibly beautiful. However, upon arriving in Garopaba, the options go beyond to enjoy the sunny days at the beach. As the city reserve, amid its beautiful beaches, natural attractions ma-ra-saw-him-sos. And with that, your trip Garopaba can be much more productive and, above all, unforgettable. And for that to happen, just check our roadmap of what to see and do in Garopaba and have fun to the fullest! For whoever does the time being single is you, nobody else. So she left ?!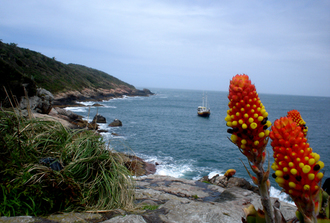 Discover the attractions of Garopaba
Coral Island
This lovely place it is a beautiful island that is 45 minutes by boat from Garopaba beach. The ride up there booking several surprises like meeting the old lighthouse and the sea wall with inscriptions about 2,000 years ago. And to get there, you can rely on transportation services leading to the island. The outputs are made from Garopaba beach cove. It is a must. So, call family, friends, and make the most of the Coral Island.
Cascade Encantada
How about a delicious bath in a natural pool of fresh water? Sounds great, no ?! It is impossible to resist, because the water is limpid and clear. Who knows just returning. And who visit for the first time, "suffering" to leave. Access is not very easy, but the bath is rewarding, he saw ?! To get there you must take a dirt road north of SC 434 highway, 7 km from BR 101.
Indian Hill
This tour is for those who want to enjoy nature, have an enviable view and feel the fresh air that the setting provides. And if you think this is not possible, you're mistaken. For this paradise we are talking about does exist, we saw ?! It is located between three other wonderful scenarios: The beaches Rust, Barra and Garopaba Lagoon. Called Indian Hill and is popular with visitors. But those who think this name is for nothing, you know? Since the name chosen due to a huge stone to its north side that resembles the face of an Indian, and also some marks on the stone, which probably were sharpening their hatchets.
Ibiraquera Lagoon
This is for anyone who does not dispense water sports, saw ?! So, if you are part of this group passionate about the sport and the water at the same time, it is good to stay on. For south of the city of Garopaba, in Ibiraquera Lagoon, which has totally calm waters, you can have fun with sports like canoeing, windsurfing, jetsky and others. But not only that, not seen ?! As well as find people practicing these sports, there is a great possibility to find crustaceans. Since then, full of life lagoon. That gives everyone, sports, natural beauty and much, much more.
dunes
The dunes are also part of the tropical scenery of Garopaba. The main ones are the Siriú and the Ombudsman, ideal for the practice of sports in the sand - young people enjoy. And the famous dunes of Siriú are very close, just 5km county, and its location within easy reach. Recalling that the great length and slope of dunes are ideal for the practice of sandboarding. Enjoy this adventure, he saw ?!
Vacation Rentals in Garopaba
How about opting for Vacation Rentals in Garopaba as an alternative to hotels and usual hotels? In addition to significant savings, rent property for holiday is the ideal choice for those seeking privacy, comfort and fun.

Houses for rent in Garopaba
Garopaba want to enjoy in a delicious and cozy home for the season? Find the Season Free various options and select the one that best suits your needs.
Apartments for rent in Garopaba
If your preference is for an apartment for Vacation Rentals in Garopaba, the Open Season also has the best options for you and your friends or your family. Plan your next vacation and enjoy the coast of Santa Catarina!
Photos: Tamara Bortolini, Paul Brockmann, Franklin Dattein, Christophe Marchal
Publish properties in Garopaba / SC to rent for season
If you are the owner or property manager (broker, real estate) and want to rent property in Garopaba / SC, know that TemporadaLivre is the best rental portal for the season in Brazil. Do not waste time: see how season still advertise and put your property to work for you!