Vacation Rentals in Ponta Verde Beach
quiet beach Mid extension, is considered a good option for those who wish to enjoy a nice day at the beach. Usually receive a good number of tourists during the high season, you can enjoy good times in place. It has a large stretch of golden sand, the sea is calm, crystal clear, that looks like a natural pool. It is suitable for bathing and to practice water sports such as kayaking and windsurfing. In summer it is one of the busiest places in the area, getting young people and families with children. The infrastructure is good, but visitors can bring food and drinks and have a picnic. It is an excellent place for those who want to relax, take a refreshing swim and replenish energy.
The current name was inherited from the site Ponta Verde, which became known throughout Brazil because of a coconut tree in an unusual appearance - like the neck of an emu, until now famous "Gogo da Ema", although there is more marked time as a tourist symbol of Alagoas.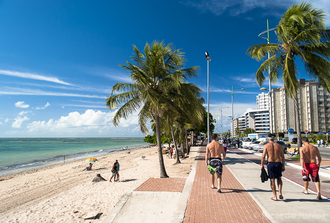 Vacation Homes in Ponta Verde Beach
The Ponta Verde Beach can be harnessed with more freedom and causality in the case of a rental property during the season. This is because the site structure is conducive to this freer and more independent approach from visitors. Through the season rental in Ponta Verde Beach can enjoy better and more comfort all the attractions of the place, that combine natural beauty with the peace and quiet of a more private environment.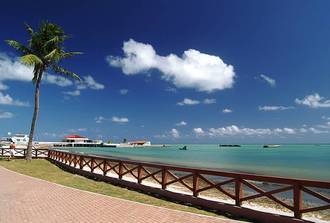 Apartments for rent in Ponta Verde Beach
The city's main source of tourism economy, then, modern apartments in buildings with several floors abound in the center of the city of Maceio. Therefore, the options for you to rent an apartment are many.
TemporadaLivre have different options of apartments in the city. Among them, some in the city center, or in paradisiacal beaches with balcony facing the sea.
When searching for a property to rent during the season the site, use the smart filters to choose the property that best suits your desires! It is up there on the left. You can filter the amount of people that the house holds, has swimming pool, barbecue, air conditioning, distance from the sea and many other options to choose the property that is your face!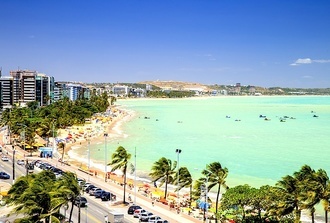 Rentals in Ponta Verde Beach
For those who prefer to stay in a large, airy home to a large number of people, the island also does not lack. In TemporadaLivre you find a great real estate catalog for rent in Ponta Verde Beach for every taste and in various prices.
Advertise your property in Ponta Verde Beach Vacation Rentals
If you are the owner or property manager (broker, real estate) and want to rent property in Ponta Verde Beach, know that TemporadaLivre is the best rental portal for the season in Brazil. Do not waste time: see how season still advertise and put your property to work for you!