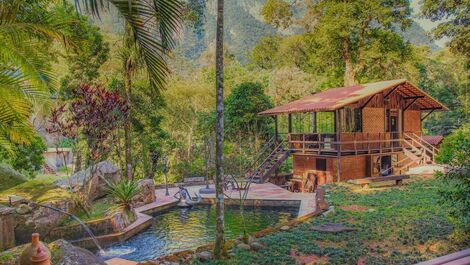 Village where a river flows
IT'S A PLACE FOR YOU TO COME AND FORGET THE REST....
You need to come and live this experience. Waking up to the sound of the waters, having breakfast, putting a batch of cheese bread to bake, going to the first waterfall of the river, lying between the rocks and letting the waters flow for you, go back for another coffee with cheese bread already baked, read a book on the balcony, take a trail on the way back and prepare lunch on the wood stove, then a nap on the balcony hammock. Later, a sauna with a cold shower over the river. At night, wine, hot soup, lighting the fireplace to warm the atmosphere on cold nights and nothing else.
There is an hour's drive from Rio de Janeiro, you arrive at this paradise. Breathing fresh air and river at the door of the house, beautiful waterfalls, pool of natural water and very green.
The site is located in the Environmental Preservation Area of the Atlantic Forest, in Serra dos Órgãos, on the uphill of the Teresópolis mountain range, a few meters from stunning waterfalls, trails, the Serra dos Órgãos National Park and Dedo de Deus.
This is a house to enjoy and enjoy time in nature, in tranquility, in lightness.
MAIN HOUSE - 01 BEDROOM
It is a very cozy house in the middle of nature. The center of the house, like the home of someone who likes to cook, eat and receive, happens in the connected glass kitchen that has a dining table, where up to 8 people can sit comfortably.
The kitchen is equipped with a refrigerator, dishes, cutlery, blender, electric coffee maker, 4-burner stove with...
Advertiser:

Jump In Bed
Property code:

90450