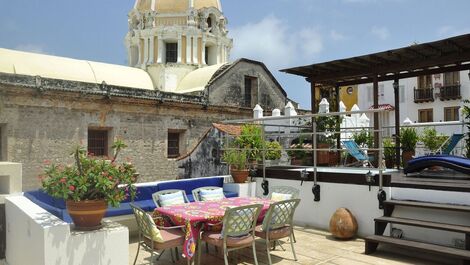 Car021 - Renovated colonial villa with stunning views
Enjoy this luxurious restored 250-year-old house in a 280 square meter colonial style. The house has a maid who can cook and clean it daily to meet all your needs. The view of the Cathedral of San Pedro from the private roof, jacuzzi and central location defines the exclusivity of this property.
There are 5 rooms that accommodate up to 12 people. The master bedroom and bedroom 2 have king size beds and a private bathroom. Bedroom 3 has a queen size bed and a private bathroom. Bedrooms 4 and 5 each have 2 single beds and a private bathroom.
The property's finishes are luxurious and historic. There are 2 large flat screen TVs and high speed wifi. The bathrooms have waterfall showers. The modern kitchen comes fully equipped with everything you need to cook, including a blender, toaster and coffee maker. There are 2 living areas that have 2 sofas each that could double as a bed. This is truly a perfect place to enjoy all of Cartagena's great sites, having your own beautiful home to enjoy.
Two spacious living areas with a cathedral, vaulted ceiling of knotted pine and local art add to the atmosphere of the house. You will not forget the view of the Cathedral of San Pedro from the private roof, the outdoor dining area, or the jacuzzi.
The staff will keep the place clean and will be able to cook a delicious Colombian meal.
Advertiser:

Latin Exclusive
Property code:

89251