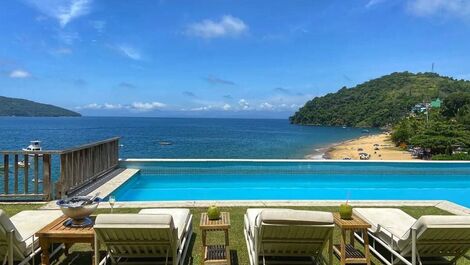 Luxury house standing on the sand in Praia Vermelha - Angra dos Reis
Made by the same architect from Fasano, Bernades, a house entirely made of Greek marble and furnished by the August workshop, located in a beautiful luxury condominium, the property is on the sand in Praia Vermelha, an exclusive and reserved beach in the region and is about 40 minutes from the centers of Angra dos Reis and Paraty.
With capacity for up to 16 guests, the house has 4 floors and incredible architecture that values the entry of natural light into the environments, including 6 of its 8 suites, which have a beautiful view of the sea. The other 2 suites are located in an additional annex, forming a private guest house with a living room on the outside of the house. In your master suite, you can find a large balcony with views of the entire exterior, including the beach and its nature, in addition to a whirlpool.
In its main area, the house has an entire floor surrounded by natural light, which enters through its glass walls. A beautiful dining room with 2 tables is integrated into the living room, with both rooms facing the outside. Beside, it is possible to find a private TV room and a large kitchen.
Outside, an extensive pool is located overlooking the waters of Angra, next to it, a beautiful garden with leisure area and gourmet area with a professional barbecue ideal for meetings. Descending to the ground floor, a second annex overlooking the sea with a suite and living area can be found. Further down, the house has a beautiful sauna and walkway in the sand to the beach, providing...
Advertiser:

Otávio Mustafá Agência Meu Anfitrião Aluguel Por Temporada
Property code:

86882