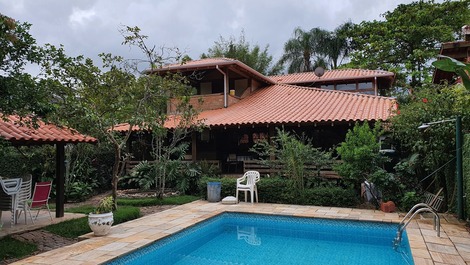 BEAUTIFUL RUSTIC STYLE HOUSE NEAR THE BEACH
Beautiful house in a rustic style, very wide and 700 meters from the beach (Camburi or Camburizinho).

4 suites with a / c and ceiling fan.
Suite 1 - 1 double bed 1 bunk bed
Suite 2 - 1 double bed 1 single bed with pull-out bed
Suite 3 - 1 double bed 1 single bunk bed
Suite 4 with private balcony - 1 king bed
Mezzanine, American kitchen, flat screen TV, cable TV (Sky), Wi-Fi internet, swimming pool, barbecue, pizza oven and 5 spaces.
Utensils: 5 burner stove, duplex refrigerator, 1 door refrigerator, blender, microwave, sandwich maker, mixer and coffee maker.
Washing machine.
Maid service available upon request and a separate fee. Cleaning fee at the exit if you do not use the maid.
Very safe (homeowner lives in the back house).
Bath towels and bed linen are not included.

DEPENDING ON THE DEPARTURE DAY, THE CHECK-OUT TIME MAY BE EXTENDED UNTIL NIGHT.
PLEASE INFORM THE NR OF PEOPLE WHEN REQUESTING BUDGET.

Located on Camburi beach, one of the most beautiful on the north coast, where you can find shops and excellent restaurants in addition to markets and a pharmacy.
Advertiser:

Roberto Worms
Property code:

86134