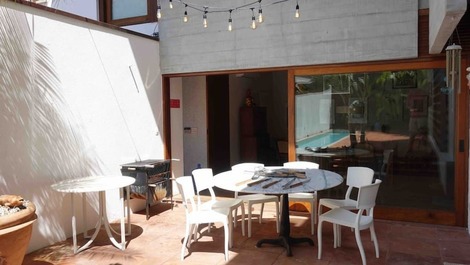 COMFORT HOUSE - 30 METERS FROM CAMBURI BEACH
Casa Conforto is the destination for those seeking a unique experience on the north coast of São Paulo. Luxurious, it offers vast rooms, large windows. The strength of the house is the high level of comfort. And better: it is only 20 meters from Camburi beach.

The house can accommodate 9 people and small pets. It has 4 beautiful and spacious bedrooms, all with air conditioning. There are 2 suites, 2 bedrooms and 2 bathrooms (one of the bedrooms is outside the main house). The living spaces are pleasant, well-decorated and perfect for recharging after a sea bath on the beach or an afternoon of sightseeing.

The kitchen is complete, well equipped. The dining room is beautiful, modern and features cable TV, Netflix, and wifi for your convenience. There is also a mobile barbecue and a shallow pool (50cm deep) in the outdoor area.

Restricted access to some closets and the basement / dga.

I am available by message and mobile for any questions or problems!

Camburi or Cambury
Loose white sand beach, clear water sea and perfect waves. Most popular place for surfers and extreme sports. Leisure and relaxation abound: ecological trails through the backcountry, windsurfing, kayaking, diving, fishing and a lot of nightlife. In Rua da Praia and Camburi's hinterland you can find typical art objects, such as the multicolored woodwork that portrays the fauna and characteristics of the region.
The Cambury neighborhood is full of charm, home to diverse dining options along the main street and its surroundings.
Advertiser:

Weekends Aluguel de Temporada
Property code:

66595