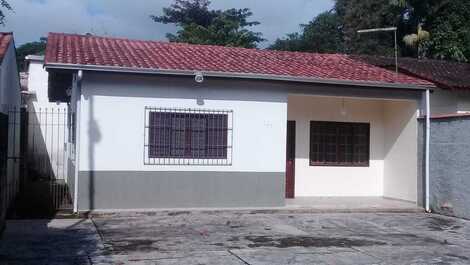 House Ubatuba / Perequê-Açu. Exit to the Rio - Santos Highway
House located in Ubatuba, in the Perequê-Açu neighborhood.

The dead-end and quiet street, at the same time, has easy access to the Rio - Santos Highway, which facilitates access both to the city center and to the various beaches, avoiding any complicated traffic in the city during the season.

The Rio-Santos highway is one of the most beautiful Brazilian roads, well signposted, it "snakes" the Serra do Mar and the Atlantic Ocean – "Coastal Highway", the road passes through a succession of famous tourist destinations.

The house has neighbors-residents on both sides, who follow the "Solidarity Neighborhood" Program of the São P State Military Police - one of the most efficient security tools.

The house has new paint, tiled floors and space for several cars; laundry; living room; two bathrooms; two bedrooms with ceiling fans, one suite; in the kitchen, the stove and the refrigerator (Frost Free).
The house holds 8 people only for a family with children.

WHAT YOU NEED TO BRING TO YOUR STAY:

• BEDDING;
• PILLOWS;
• SWIMSUIT;
• BATHROOM MATS (OPTIONAL);
• DISH CLOTHS;
• TABLECLOTHS.

■ THE CLEANING IS DONE BEFORE THE TENANT'S ENTRY FOR YOUR GREATER COMFORT AND REST, SO IT IS JUST TO MAINTAIN THE ORGANIZATION OF THE PROPERTY THAT WAS DELIVERED TO YOU.
THANKFUL.
Advertiser:

Luciana Antunes E Marli Antunes
Property code:

55930