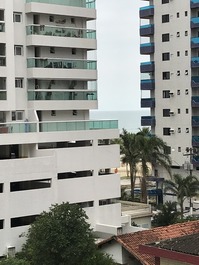 BEAUTIFUL. PRAIA CANTO DO FORTE IN PRAIA GRANDE / SP
Apt. 2 bedrooms, 1 suite with balcony and safety net, sleeps 8 people including children.
In the suite contains: 1 double bed, wardrobe, shoe rack, rack with 32 "TV, air conditioning and ceiling fan.
In the 2nd. It contains: 1 double bed, 1 bi-bed, 1 double mattress of reserve and 1 single mattress reserve, TV of 26 in. with NET, 1 dresser and fan and ceiling fan.
Large living room with balcony and safety net, 3 seater sofa and 2 armchairs, coffee table, 3 side tables, 2 synthetic fiber chairs, 1 table set with 2 synthetic fiber chairs to put on the balcony, 46 "TV ., wi-fi and ceiling fan.
Full kitchen with wall fan and 1 column fan.
24 hour concierge and security cameras.
Close to restaurants, shopping malls, church, bakery, mini market and to the extra supermarket.
Advertiser:

Valdenice G Pagotti
Property code:

55013