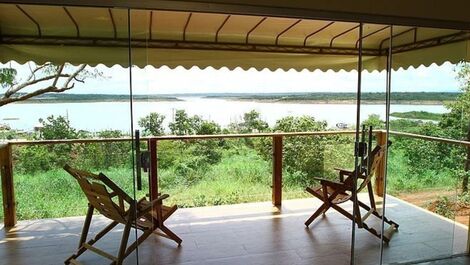 Pousada Rancho Canto da Serra in Uruguay - GO Serra da Mesa Memorial
The Rancho Canto da Serra is located in Uruaçu-GO, in front of the Serra da Mesa Memorial and a few steps from the floating and the beach.

The Serra da Mesa Lake is one of the main destinations among lovers of sport fishing, rural tourism and nautical sports in Brazil.

270 Km from Brasília (DF). 280 Km from Goiânia (GO).

2 suites with closets, air conditioning, towels and bed linen.
American kitchen integrated the living room with refrigerator, cooktop, microwave, dining table and utensils.
Barbecue grill.
Balcony with panoramic view.
Minibar.
Advertiser:

Solange
Property code:

43097