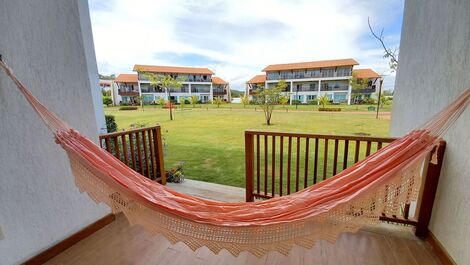 Flat 1 Bedroom - Club Meridional Carneiros (C03)
Condominium:

Club Meridional has a complete leisure area with: swimming pools, sports courts, service block, garage for boats, gourmet spaces, gym, children's area, restaurant and party room, convenience store, pool bar, chairs and guard Sun; area with buoys reserved for bathers and guardhouse on the beach with 24-hour security. Praia dos Carneiros is a beautiful blue paradise with beautiful natural pools. Great for you looking for tranquility, peace and leisure, your family will love it! Club Meridional is just 50 minutes from the entrance of Porto de Galinhas to Praia dos Carneiros.

01 bedroom flat at Flat Club Meridional Carneiros, Tamandaré. It has a great location and comfortably receives up to 05 people, with the following configuration:

• Room with 01 double bed with bunk bed (sleeps 03 people), black-out curtain, TV, air conditioning and closet;
• Living room with TV, sofa bed (sleeps 02 people);
• Equipped kitchen (crockery, glasses, pans, cutlery, sandwich maker, blender, microwave, 4-burner stove with oven, refrigerator, cooler and various utensils);
• Complete bathroom (box, closet, electric shower)
• Balcony with table and 04 chairs.

Who is Carneiros Temporada?

- Carneiros Temporada is specialized and acts as a reference in seasonal rentals in the most beautiful beaches on the south coast of Pernambuco (Praia dos Carneiros and Muro Alto). The company's main mission is excellence in service and service delivery, providing effective support for the guest with a...
Advertiser:

Rafael Chacon
Property code:

102996